A Full Suite of Solutions
Transforming Conversation Data into Decision Intelligence
A full suite of solutions based on your needs ranging from our award winning "no code" NLP platform to a family of comprehensive subscription based dashboard driven products, ad hoc insights and fully managed solutions.
"No Code" NLP Enrichment Engine
Conversus.AI™
A SaaS award winning "no code" NLP platform that allows even non-technical users to build, customize, validate, and seamlessly deploy high performance NLP models directly or through a wide range of third party social listening, business intelligence and CX solutions. Access hundreds of prebuilt models by industry, build your own or modify existing models to meet your own definitions and needs, validate performance, and deploy easily. Flexible data inputs and outputs position Conversus.AI™ as a premier "middleware" solution for conversation intelligence enhancements.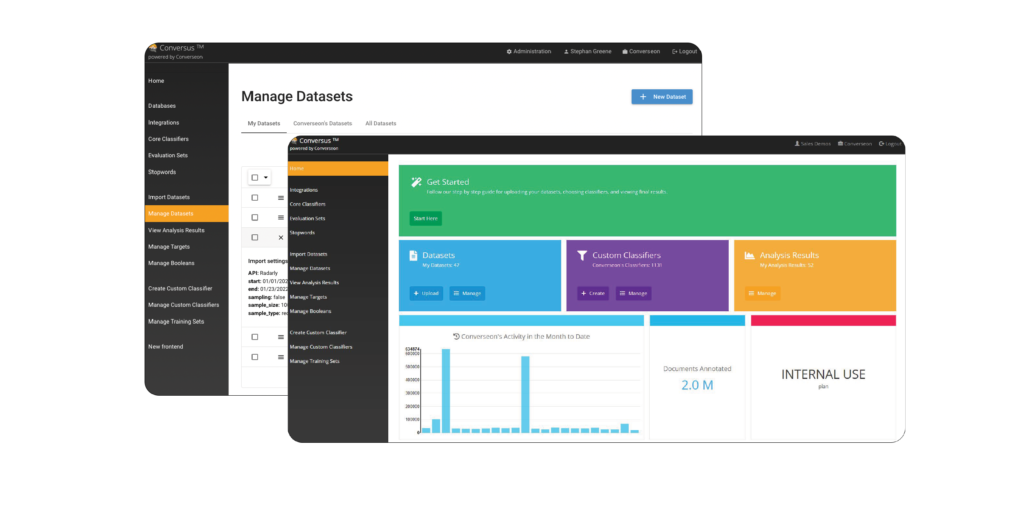 Reputation Intelligence
Predictive Reputation Intelligence Solution (PRISM™):
Brands today are facing a world more polarized than ever, with demands to weigh in on not just industry issues, but political and social issues as well. And they have been forced to do so with limited information on potential impacts, until now. PRISM™ is the first real time decision intelligence system for brand reputation. The system provides bottoms up and top down analysis on key drivers, risks and opportunities for reputation across multiple dimensions including ESG, CX, and more through our proprietary CMM score. With PRISM™, you can avoid blindspots, and simulate business actions to understand impact of key drivers on reputation and shareholder value. Discover emerging topics not yet on your radar and inform ongoing reputation management strategies while enhancing brand purpose.
"Converseon's NLP and applied AI approach helps us stay on the cutting edge of social listening and help us transform the data into actionable intelligence in areas ranging from corporate reputation to customer loyalty. "

Angela Berger, Walmart

Social ESG Index
Understand stakeholder (investors, media, customers, etc) perceptions of your ESG efforts, including sub topics such as diversity & inclusion and carbon offsets with clear proprietary CMM scoring to perform gap analysis, inform strategies, communications, social responsibility/brand purpose efforts, and enable benchmarking.
Social CX Metrics
Understand how you perform on satisfying your customers vs. your key competitors. In this competitive analysis you can also see which areas of service you lead the industry on, where you are performing to the average and which areas you need to improve. Once you decide on the actions you would like to test, run these through the CX Simulator and see how much market share you are able to gain.
Brand
Social Brand Relevance
System (SBRS):
Our groundbreaking brand relevance system, built entirely from the conversations of your and competitor customers, enables you to understand how well your brand (and product lines) fits with the category needs and benefits of the core and secondary target markets. Not only can you see your fit with the market today, but our trend projections enable you to understand how well you will fit with the category of the future. This enables you to adjust your product developments and messaging to ensure you are positioned for success now and in the future.
Social Brand Relevance
Metrics
These metrics enable you to understand your position in the market. At a glance you can see how well your brand fits the category vs. your key competitors, how you rank on meeting customer needs, the strength of your product benefits and the value for money of your offering. Since these metrics are built over time, you can see how your various efforts (campaigns, product launches, etc.) have changed your position in the market vs. your competitors.
Product
Innovation
Our bottom up Category Opportunity and Risks Matrix Assessment enables you to understand the white space of your category, as well as, which segments (needs/benefits) are going to be viable in the future ( the best opportunities for growth) vs. those which are cool off and are a thing of the past (risky areas to invest in). This innovation matrix allows you to target the areas which best match your brand's values and persona and are set to continue growing in the future whilst avoiding those which have a high probability of not paying off.